Case Study: Hospitality IT Solutions
True Vision Tech has gained a substantial grasp over designing various professional and ecommerce portals. However, presenting a theme based and aesthetic in any website design remains difficult task for even expert designers. Let's look how we created a stunning web-design for a unique restaurant franchise concept in different parts of New York, mainly Queens and Long Island.
Challenges
CANZaCiti was unique and different from other traditional restaurant concept. The whole idea of this restaurant series was to prepare one in roadhouse, offering people food andbeer while seeing electrifying ongoing games. The website was equally unique idea that nourishes and creates a roadhouse on web world. Now that was a real challenge for us.
The set of challenges in the project was:
To prepare a website which presents the business and concept in its full spirit
To make a completely customized and theme based design which reflects a restaurant turned roadhouse to internet users
Home page covering all the services that restaurant offers as well as showing all the events thatare hosted and showcased
Integration of Image, Video and Event Gallery with highly interactive features
Showcasing Menu and Staff profiles on website with various categories and locations
Featuring galleries showing CANZaCitiCalendars and Party Pictures and make it available to members area with login credentials
Meeting the Challenges
After we identified the design challenges that are to be met in this project, we set up a team of our designers which are both talented and experienced, and once again, our team proved their potential with a mind blasting design concept followed by solid development.
We offer all types of web design, based on the individual client's needs: A Dynamic Website, Flash Web Design, Ecommerce Web Design or Static Web Site.
Home Page:
Home page being of immense importance, unique sets of features was designed for home page of the website. You enter URL and you land on a homepage that introduces and visualizes entire CANZaCiti concept to you. Some featured concepts are:
Introducing background that suits well to the concept of a Road House with feel of wooden floors, exposed bricks and dusty walls
Introduction of various props that reflects the idea of having beer, food and a live game together
Show casing featured upcoming events in the badge look-like header slider unlike locational and business related pictures in other websites
A Road House look to design of buttons that were used for header and footer Tabs. Featuring all the main areas of websites on home pages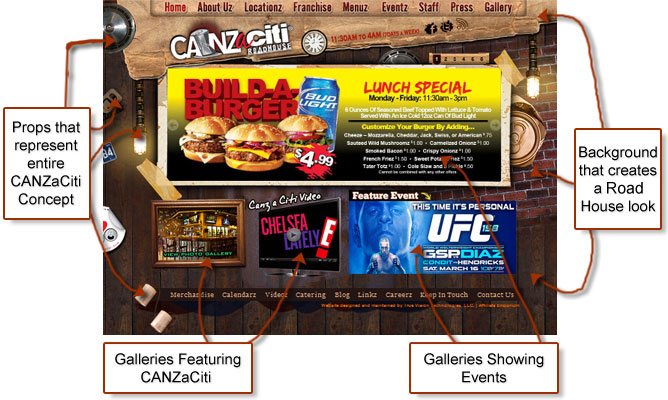 Features on Manu Page:
Menu was loaded with some extremely logical yet simple to operate features in design. Some glimpse follows: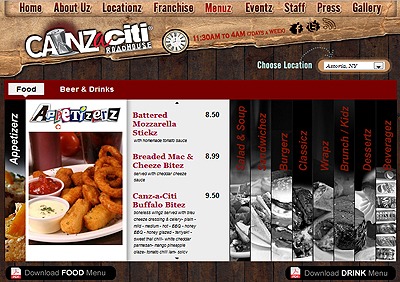 With CANZaCiti, showcasing images and videos were of prime importance. Let's have a look at how we offered solution:
One unique concept of CANZaCiti was to introduce their staff on website to attract customers and to stand the competitors.
Additional features of Job Openings and online resume submission, important links, press notes, etc. were also integrated with website and its theme.