Software Development
Software Development Scenario Today
With rising competition, companies are always looking for a strategic advantage. At True Vision Technologies, we help organizations to differentiate themselves by developing custom software applications to increase productivity and to cut down the cost.
Unlike early software development, today's software programs must be cutting edge, nimble, and user friendly. The application itself is just one piece of the puzzle. The development teams must also consider its running time, size, portability, memory consumption, hardware compatibility, etc.
To create high quality software with tactical differentiation and operational superiority, the development team must possess in-depth proficiency and utilize a state of the art methodology. True Vision Technologies has the superior technical background you need to meet your goals and help you compete in today's business climate.Check-out our Portfolio to review our work!
Software Development at True Vision Tech
In order to deliver the most proficient and efficient product, we adhere to a strict internal development model. See the details.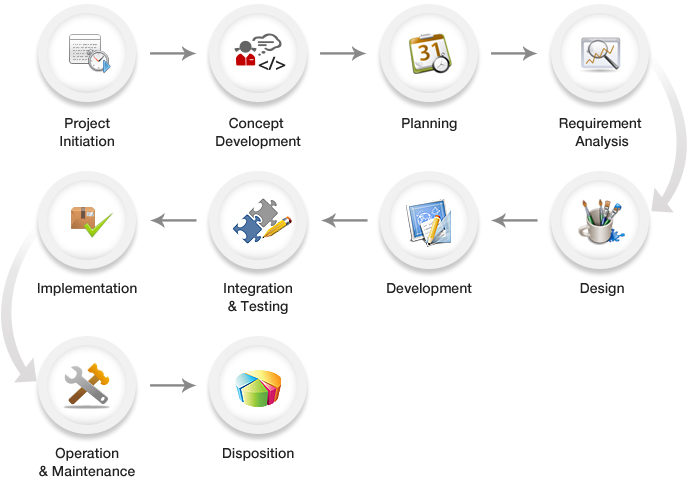 Initiation: In the beginning, the project idea is generated from a need or an opportunity combined with its foreseen solution.
Concept Development: From the idea, a polished concept is generated comprising of core features and utilities.
Planning : After the concept is developed, an execution road map is planned according to various relative factors.
Requirement Analysis : Based on the idea and concept, a list of requirements that will be integrated in the software product is generated.
Design : Based upon the data gathered from the initial level, software theme and navigation scheme, our skilled designers prepare a master set of designs for the product.
Development : After a completed version of the designs, navigation and features, is developed, actual development of the information system takes place. Our skilled and expert team of developers takes care of every detail of the targeted product.
Integration and Testing : After an intensive development phase, the product is set to be integrated into the system environment. Here, a complete functionality check is performed as per the requirements. Quality Assurance is done and Test Reports are produced.
Implementation : After satisfactory test results, the finalized product is implemented in the production environment. Resolution of the problems discovered in the integration and testing phase is also performed at this step.
Operation and Maintenance : Tasks to operate and maintain the finally developed software in the production environment are performed here. Post implementation reviews and in-process analysis are done.
Disposal : After all the necessary processes and testing, the product is disposed and end-of-system activities are studied. Here, emphasis is given to proper data preparation.
In addition to the above mentioned processes, we also maintain your software as per the requirement and budget. Even with this extensive process, our development quotations provide tremendous value and are completed faster than our competitors products. Our products will boost your ROI!Click here for a quick quote of your project!