Business Applications
Business Applications These Days
Every business these days requires a strong IT backbone to sustain in a market that is overflowing with cutting-edge competition. Even businesses that had not considered IT an important factor are facing the fact that IT support is a necessary function, which must be factored into the cost of doing business. True Vision Technologies is here to guide you in the right direction in developing your business application. No matter what field your business serves, we provide applications that will add value to your business like never before. Our services encompass all stages of development, from conceptualization to implementation.
Our Vision of Business Application Preparation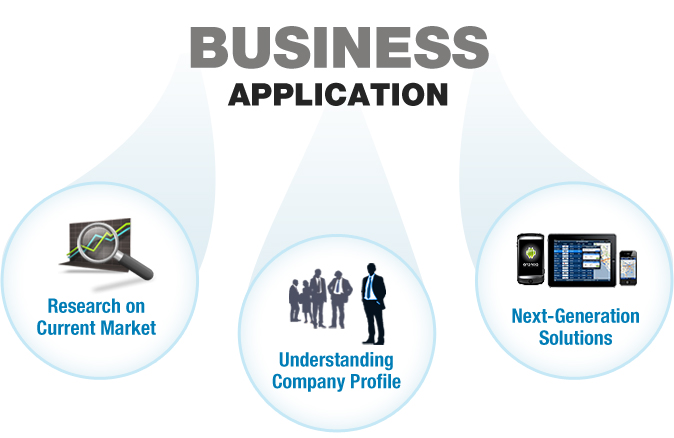 Our Conceptualization of Business Applications as per the above image is:
To Understand the Company Profile : Our Business and IT Experts evaluate the scope of the project and the company profile from its establishment to understand what will be the most effective way to prepare a business application that enhances the business's productivity.
To Perform Research of Current Market : We perform extensive research of the current market regardless of what stream of the business we are working towards. It is of utmost importance that we understand how the market flows and at what level of competition the company stands, as well as the target audience and their approach to the company and product.
To Foresee Next-Generation Solutions : Deciding how to deploy next-generation applications requires both expertise and experience. On this end, our experts can easily figure out the scope of the business and the level of IT involvement required of it. Incorporating these facts into the business application modules helps the company sustain itself among its competition.
Technical Features and Services
We offer a variety of Business Applications, some of which are listed below:
Financial Application Development
E-Commerce
CRM Software Development
E-Marketing Systems
Data Management Systems
Reporting Systems
Our expertise in a variety of platforms allows us to develop solutions that are not tied to a specific vendor or product. The list of platforms includes the following:
Win32
Windows Mobile
WinCE
Mac OS
UNIX
Linux
We are capable and equipped for mission-critical situations as well. We work quickly and efficiently, performing our tasks faster so that the company can reap the benefits as soon as possible.