Ecommerce Web Design Service
Today, many people don't bother going to a store for something they can order online and have it delivered. In the last decade people have turned to online shopping for much of our needs. Therefore, it is becoming extremely important for a business to provide a parallel online shopping facility to run a competitive operation. E-commerce has made it possible for entrepreneurs to extend their reach farther than they could have ever imagined. However, it has also become risky to provide the ability to allow online monetary transactions.
E-commerce Website Design and Development:
E-commerce Portals are different from other websites in the way that they are not meant only to provide information or interaction, but to connect viewer's choices, likes, finances and emotions to products. At True Vision, we follow a set of rules in order to achieve satisfaction from every user. See our work flow to know more. Click here for free Quote.
Analysis of Your Product's E commerce Capacity.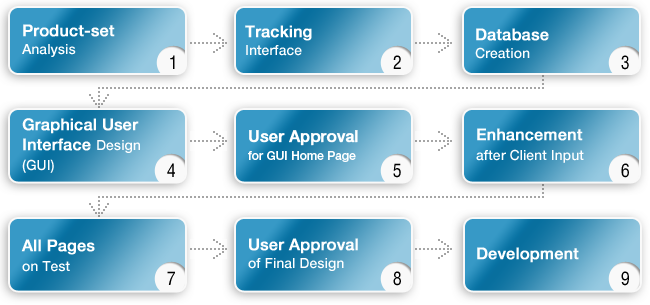 E Commerce Handling at True Vision Technologies
As an e-commerce project designer, True Vision has earned a top ranking among the E-Commerce Portals in the IT field. We have designed large and medium scaled E-Commerce Portals that are running successfully and generating revenue for our clients. This experience includes not only full online e-commerce portals, but financial integration through the core site of the company.
For example, True Vision Technologies is among the top ranking portals in the field of automotive parts. Along with three different Auto Parts Portals, we have designed online e-commerce solutions for businesses such as restaurants, travel solutions, printer inks, financial and insurance groups, interior designers and many more. Check our eCommerce Projects.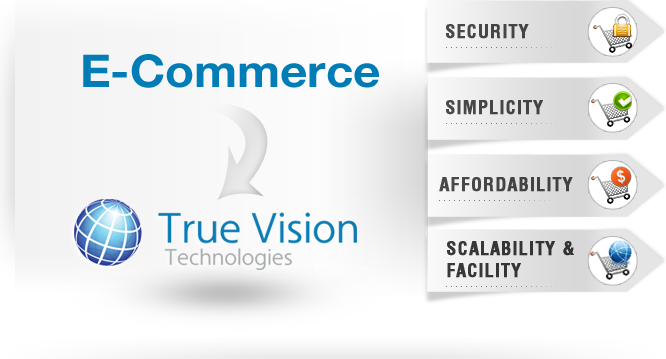 Simplicity : We follow the path of simplicity in our E-commerce ventures by making our viewers and/or clients comfortable with their product selection. We also provide a wealth of information regarding the product's general category and operations, if necessary. For example, in our TheAutoPartsShop Portal, we have created an "Autopedia" which helps the customer understand their product more effectively by supplying information about many of the products offered. We feel that giving customers the knowledge they need to make their product selection will result in a more confident buyer.

Affordability : Unlike traditional websites, e-commerce website involve finance. When it comes to a purchase, people want it cheaper while maintaining the highest possible quality. We understand that logic and implement it for our clients' advantage. Speaking of affordability, the preparation cost of our third party e-commerce portals are the lowest rates around. We deliver affordable products and services, while also maintaining the highest quality.


Facility : We always incorporate features of replacement and troubleshooting with product sales to maximize customer's buying confidence. We can also incorporate online help capabilities depending upon the product and budget.

Security : Besides sales of course, the most important aspect of the E-Commerce Portal is Security. With the rise of identity theft and malware, securitizing the purchase is particularly important. Customers choose to spend their hard-earned money on our portals and we must provide a secure environment in which to do so. We employ the most respected security certificates to inspire the highest degree of customer confidence.
In addition to providing a secure environment for your clients, we securitize the business end, scrutinizing customer's authenticity and reliability as well. These constant checks ensure that products are only released to customers that have fairly paid for the goods.

We will get back to you with a clear and concise Proposal to get you started.